About This Site
How I built my passion for Hooping into a Business!
Thank you for stopping by and reading about how I built my passion into a business. I decided to add this page because I kept getting questions from people asking me about my site. Usually, they want to know how I make money from a site that provides free information.
I'm always telling my friends how they can turn their knowledge and passion for something into a home business. Anyone can... everyone knows something about something that others would want. Instead of spending money on an interest you love, why not make money from it. That's what I'm doing with this site. I figured, while I'm providing information about a fun way to getting fit, I could generate some income on the side. :-)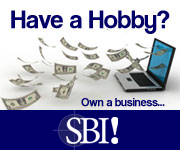 Did you know - a past Harris study showed that 72% of households are looking for ways to start a home business. That number is probably higher now, especially due to the slow down of the economy. Many people are taking their financial future into their own hands. I don't blame them.
Doing business online is the perfect way to start a home business. As long as you have the right tools and process in place, anyone can do it. And you don't even need a product to build a successful, e-business.
All it takes is a hobby you have a passion for and BAM!!! (Brains-And-Motivation).
BRAINS: (knowledge and passion about a given subject)
ATTITUDE: (to be positive with the expectation of success)
MOTIVATION: (you must have determination to see it through)
How I Started This Site
My interest in starting a home business came about while completing graduate school. Money was very tight and I knew I had student loans to pay off once I finished school.
In 2004, I finally, completed my graduate studies.. I was desperately in need of extra income. I have been looking at various opportunities to start a part-time business in order to supplement my full-time income, and pay on my student loans. It has been a struggle for me. At one point, I was even laid off from my job. That really made it difficult for me to stay on top of my student loan payments.
You know... student loan debt has really gotten out of hand in this country. My heart goes out to students who are coming out of college with student loans to pay off. With the shape of the economy, many are stuck with this cloud of debt over their heads.
I have always dreamed of having my own home business. In the past, I tried my hand at MLM - Network Marketing... but that wasn't for me. The thought of making a bunch of cold calls to people I don't know, just didn't sit well with me. On top of that, I hate selling. I looked into other opportunities, many were scams. You know the ones that promises fast, easy money? Sometimes you see them on late night info-mercials. They always sound to good to be true.
Then, I heard about affiliate marketing or online marketing. This is where you would signup with companies, for free, as an affiliate and earn a commission for every sale you make. This sounded good. But the only problem, I didn't have a website and I knew nothing about building websites. I did learn some HTML from reading books on the subject. But, it seemed like time-consuming work.
How I Came Across SBI
I came across SBI back in 2009 when I stumbled upon a website created by Lisa Irby. She is a successful affiliate marketer. I was really impressed with her site. I could tell it was high quality and her honest way of presenting information is very refreshing.
What's amazing about her story is that Lisa was able to quit her 9 to 5 job and work full-time on her web sites. She did this using SBI. You can check out her site flat-stomach-exercises.com.

I was inspired by Lisa's story. I figured, if she can do it what's stopping me?
I started comparing SBI against other hosting companies. I found that SBI offered a whole lot more, than just server space on their servers. But at the time, I didn't have $299, which is the annual fee to signup with SBI. So, I decided to try a cheaper hosting company. Heck! I even tried out the free hosting websites you see out there.
Big mistake!!!
I didn't get anywhere. Let me say that... you get what you pay for with these cheap hosting companies. I was very limited in what I could do. So, after a year of looking at other hosting companies, I came back to SBI.
I finally, signed up for SBI under their $29.99/monthly plan. I started this site in 2010 after I found my passion for hooping. I downloaded two of their free e-books from the SiteSell.com webite: "Affiliate Masters Course" and "Netwriting Masters Course" and beganned reading these books to learn more about how to start an online business. I devoured all the information it provided me. They are so well written and easy to read.
In addition to reading the Masters Courses, I delved into the "Action Guide". I followed the 10 step process and didn't deviate one bit. At times, I would re-read the "Action Guide" over and over again to make sure I didn't miss anything. The Action Guide pulls the information you need into one place, walking you step-by-step from picking a niche, researching keywords, choosing the right domain name, and building traffic.
I felt like I had nothing to lose by signing up with SBI. Besides, SiteSell.com will give me a full refund if I wanted my money back. It's completely risk free.
What I Like About SBI!
What I like about SBI is they are not like most hosting companies who only provide you with space on their servers and that's it! SBI don't just provide you with a set of tools and then leave you to figure it all out on your own.
I'm never alone with SBI....
SBI! is different. I love the fact that I'm provided with so much more than server space to host my site. I never feel alone in building my e-business. Whenever I have a question or I'm at a point where I'am stuck, I can always depend on someone in the SBI forums to provide me the answer.
The forums is a place where fellow SBIer's go to help and to be helped. It feels more like a family, everyone extending a helping hand and answering any questions presented.
I love reading comments about those who were able to reach their financial goals. It is so inspiring.. If I'm feeling down and ready to give up, I can always count on the forums to give a bit of inspiration to keep going.
In addition, to the forums, I receive weekly emails from SBI consisting of updates, tips and helpful articles to grow my business. I don't have to sift through a bunch of affiliate marketing stuff out on the Internet because SBI provides me with all the e-zine articles I need. This helps me stay focus on what is important, growing my business. I'm not side-tracked by all the noise out there on the Internet.
I Don't Have to Spend Time Learning HTML or CSS....
SBI! removes the technical barriers allowing me to keep my attention on building my business. Many functions are completely automated. I don't need to know anything upfront about building a Web site in order to succeed. The tedious, "under-the-hood" stuff is handled automatically so I can focus on other important business-building activities.
Of course, if you have advanced skills at building web sites, SBI will work for you, too. It's great for beginners who know nothing about HTML/CSS, and works for advanced users, as well.
SBI uses a technique called "block building" to create a web page.
Page creation is as simple as riding a bike with its training wheels still attached. :-)
No need to know HTML. The block-by-block builder trains you how to write a page that is both "Search Engine and human effective." It's simple, do-able and most importantly, effective site-building. The block-by-block builder is perfect for beginners, but even many "advanced" users should start with this tool. It's an excellent way to break bad habits!
I'm Not Left Alone with Tools I can't figure out....
The Action Guide presents a step-by-step process, presented in both written and video formats. All I have to do is follow it. Really! Most successful Solo Build It! owners say "all they did was follow the Guide." They don't get sidetracked, or have to guess at what to do next. Solo Build It!'s guided approach helps you reach your goals.
I love the fact that the Action Guide is presented in both in written and video form. If you are anything like me, I love to read. I learn by reading. But some people don't. That's why the video guide is available for those who either don't want to read, or don't have time to.
I like to read the written version first, then watch the video. This re-enforces the information I have already read.
"Solo Build It! is much more than site-building or web hosting. It's even more than about building successful businesses. It's the end impact that is so important, creating lives of freedom and independence."
Come along with me and let me take you on a tour of Solo Build It... :-) I want to give you more details about Solo Build It and how it can help you turn your passion into a successful business. You will, also, see how I make money with my website using a 4-step process. Solo Build It is a real business, not some get-rich-quick scheme. I don't like anything that gives a false sense of security.
So, fasten your seat-belt... because you are about to a ride of a life time.
Check out how I use a Secret Formula to Online Business.
Fit2Hoop
› My SBI Story